One survey of nearly 2000 people saw almost half of its respondents claim they believe the fatty area under their chin–or their double chin–worsens their appearance.
A double-chin can seemingly gnaw away your confidence because what you see in the mirror isn't the same as the image in your head when you envision your best self.
The adverse effects can be deeply personal, revolving around how you feel about yourself.
However, there are other consequences beyond your embattled self-esteem.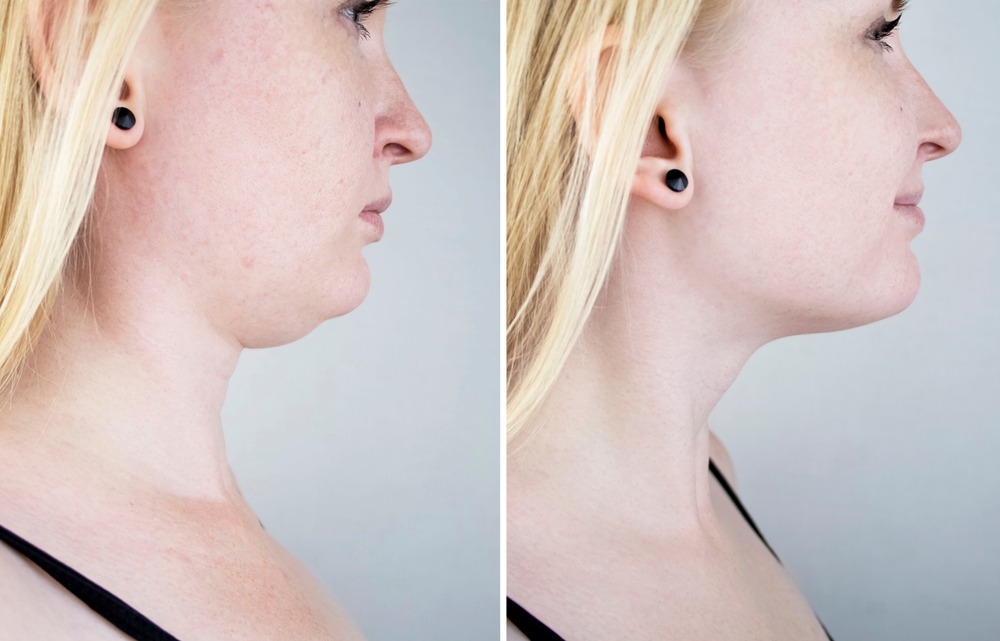 Those pitfalls might even extend to your ability to land your dream job. Such setbacks revolve around how you view yourself. If the presence of your double-chin doubles your self-doubt, it's bound to hamper certain aspects of your life. 
Clinically, the name for the fat beneath your chin is submental fullness. It can result from genetics or general weight gain throughout your life.
One popular solution that offsets submental fullness is Kybella, an FDA-approved injection-based treatment.
Below, we'll delve into how the Kybella fat dissolving injection can prove a lasting remedy that rids you of your double chin (and other stubborn fat).
What Is Kybella, And How Does It Work?
 Kybella treatments utilize a synthetic version of a naturally occurring salt in human bile, called deoxycholic acid.
Fat cells are ruptured and destroyed with the help of the synthetic deoxycholic acid. Then, your immune cells/lymphatic system remove the remaining cell contents, excreting them as excess waste.
When used to treat the fat below your chin, Kybella gradually–and noticeably–reduces submental fullness. At this point, the cells can't store or accumulate fat. So, upon reaching your desired aesthetic, you won't need any more Kybella treatments.
Often, Kybella gets used as a liposuction alternative. It's surgery-free, making it a safe fat-removal option, especially compared to going under the knife.
Furthermore, Kybella is a historical innovation, as it's the first FDA-approved injectable adult treatment meant to break up fat molecules permanently.
An entire Kybella treatment regime typically requires two to four injection sessions scheduled six weeks apart. Visible results take about three weeks after the first session.
Why Receive Kybella Treatments?
 Most people choose Kybella treatments because it's a non-surgical procedure.
After liposuction, it takes four to six weeks before you can partake in physical activities, meaning you can't exercise, for instance. According to Healthline, a full liposuction recovery could take up to three months. The process can be painful, and you often need to take pain meds during recovery.
Plus, the surgery itself takes around three hours.
Those problems don't exist with Kybella. At most, you feel minor discomfort after treatment sessions that only last 20 minutes.
There's zero downtime needed due to the exactness of a Kybella fat dissolving injection. Only your targeted fat cells are affected while the surrounding tissues remain unscathed. Here are a few more reasons to receive Kybella injections:
You want to reduce pesky chin fat without injuring any nearby tissue
You want a more contoured jawline
You're interested in receiving injections into other fatty regions of your body (e.g., thighs, stomach)
You seek permanent results (as long as you stay at your current weight)
You want cosmetic treatments that offer a non-surgical out-patient procedure
You don't want to use anesthesia
You want a cost-efficient alternative to cosmetic surgery
You won't receive incisions or scars
You'll avoid any side effects
You'll experience seamless, gradual results
Where Else Can You Receive A Kybella Fat Dissolving Injection?
Technically, the FDA approval for Kybella only applies to its fat-reduction properties in the double chin region (or submental fullness).
Still, many clinicians, such as those at True Jewel Cosmetic Center, provide "off label" Kybella treatments, injecting into trouble areas with excess fatty pockets around the body.
The potential treatment areas for Kybella outside of the double chin are as follows:
The fat sticking out from your bra brand
Fat in the armpits
Abdominal fat pockets
Knee fat
Fat on your lower arms
Pubic fat
Fat around the jawline
Kybella has proven results in the areas listed above.
Who Is The Ideal Kybella Fat Dissolving Injection Candidate?
While Kybella is highly safe and non-invasive, that doesn't mean it's suitable for everyone. As such, one of our clinicians will provide a consultation to determine whether you're an ideal Kybella candidate.
The people who generally experience the best results from Kybella injections can't naturally get rid of their double chin (or fatty deposits in other treatment areas) despite frequent exercise and good nutrition. They're troubled, frustrated, and embarrassed by their submental fullness (and other fatty regions), making them appear older or heavier than they actually are.
What about people whose double chins and other looser areas around their body stem from saggy skin instead of excess fat?
In the above instance, it might be wise to avoid Kybella.
Furthermore, our clinicians would advise anyone pregnant or nursing not to partake in Kybella treatments. Also, if you're under 18, you should wait until you're older to receive these injections. Lastly, we're likelier to advise against Kybella treatments if you've previously had liposuction, a facelift, or a similar cosmetic surgery.
Are Kybella Injections A Long-Term Fat Removal Solution? 
Since Kybella destroys fat cells, therefore no longer allowing them to store fat, results frequently last for several years, if not a lifetime.
The reasoning is relatively simple–most often, new fat cells get created to replace ones that naturally die. They won't replace the cells eliminated by synthetic deoxycholic acid, provided you maintain your body weight at the point you receive treatments. 
Be mindful that if you receive Kybella injections, significant weight gain after your treatments can create new fat cells in your targeted regions. The cells lost during Kybella treatments would be replaced by the new ones, leading to the unwelcome return of your double chin (or other fatty deposits around your body).
Only Allow The Most Reliable Clinicians To Provide Your Kybella Injections
 Whether you want to get rid of your double chin or eliminate the fat from several other areas of your body, Kybella is a cost-efficient surgery/liposuction alternative. More than that, it's precise and decidedly effective in impacting change in targeted treatment areas.
Just be sure you're receiving treatments from an expert who'll work tirelessly to deliver the long-term aesthetic results you want and deserve. On that specific note, contact True Jewel Cosmetic Center today to inquire about the Kybella treatments offered at our office.
Do you live in or near Culver City, Venice, Playa Vista, or Marina Del Ray and are you ready to book your future appointment for your Kybella treatment? Click below! Free consultations.